20 Oct

Communities of Practice meetings have kicked-off

WATER-MINING aims to be an inclusive project, where different, even contrasting, points of view are included, which can be best achieved by bringing together people from different backgrounds and perspectives. Over the past year, WATER-MINING has established Communities of Practice (CoPs) for each case study (CS) by identifying various stakeholder groups and potential end-users. The goal of the CoPs meetings is to engage locally relevant stakeholders from various expertise and backgrounds and to incorporate social values and concerns into the process of technological development.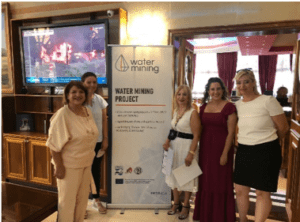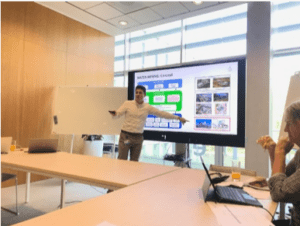 Community of Practice Meeting for Case-Study 4 in Cyprus (left) and for Case Study 6 in the Netherlands (right).
The CoP meetings of the WATER-MINING case studies officially started in September. The CoPs, specific to each CS and organised by the CoP Facilitator, addressed the outcomes from WATER-MINING's value sensitive design (VSD) and market mapping activities. On the 21st of September, the first CoP meeting for CS4, which deals with urban wastewater treatment in Larnaca, Cyprus, took place in-person with representatives present from the School of Chemical Engineering, National Technical University of Athens; Sealeau; Madisi and the City of Larnaca.
On the 28th of September, the first CoP for CS3 was held as an online event with Portuguese stakeholders. CS3 addresses the recovery of a bio-based product called 'kaumera nereda gum', which is produced from urban wastewater treatment plants and can be used as a renewable resource for various purposes, such as promoting plant growth. Amongst the stakeholders attending the meeting were the University of Algarve, Universidade Católica Portuguesa and local environmental and agricultural agencies. Acciona Aqua, Águas do Algarve, as well as Royal HaskoningDHV and the Delft University of Technology (TU Delft) had an active participation in the meeting preparation and implementation.
CS6 also had its first CoP meeting, on the 4th of October, hosted by the Faculty of Applied Sciences of TU Delft. This case study deals with the recovery of brine from industrial wastewater in Rotterdam. Representatives from the Port of Rotterdam and the DCMR Milieudienst Rijnmond, together with the WATER-MINING partners, Hexion, the Water Energy Intelligence (WEI) and Nobian, had the chance to collaboratively discuss and outline the steps needed to achieve the successful design and implementation of innovative water-related technologies to save energy and resources.
More CoP meetings will follow, so stay tuned for WATER-MINING updates.
For questions related to Cops, contact Gonzalo Gamboa from UAB
For more information on the project, contact: info@watermining.eu